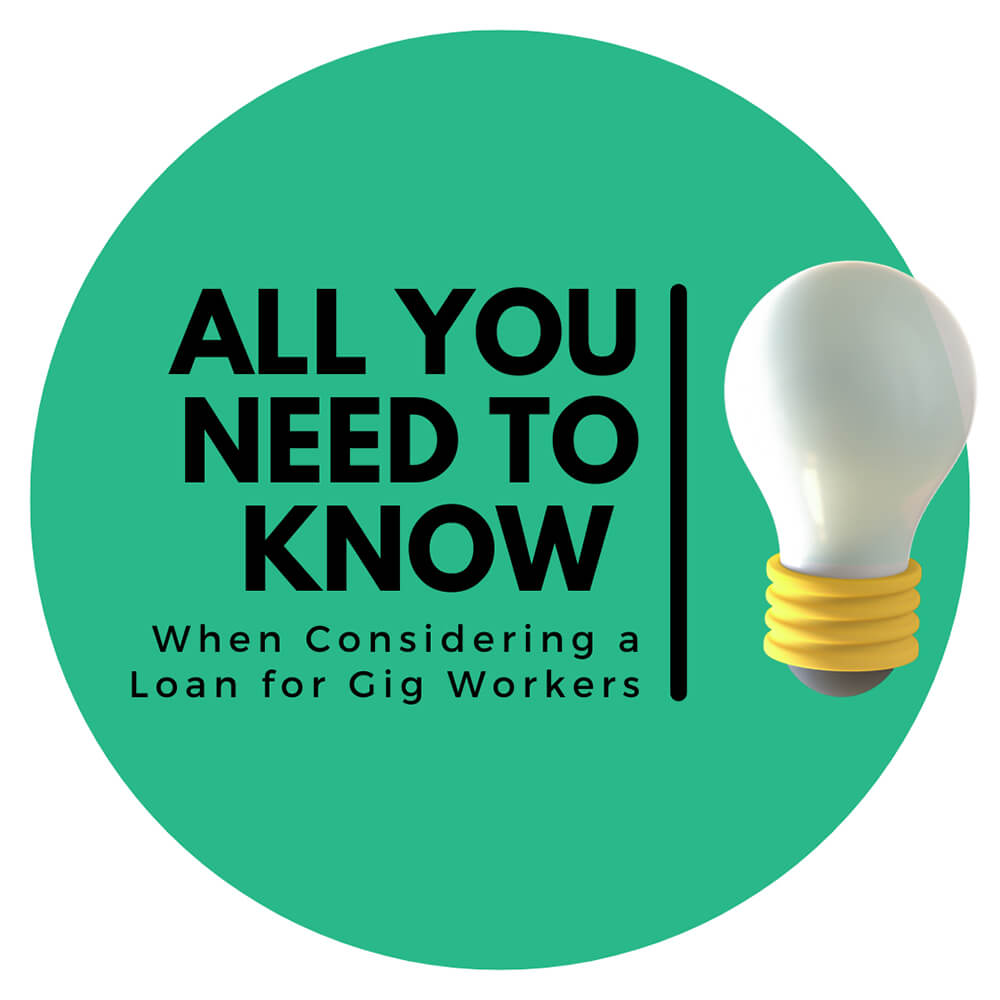 All You Need to Know When Considering a Loan for Gig Workers

The pandemic has given an additional push to the growth of the so-called gig economy. This term refers to independent work offered by both businesses and individuals through various digital platforms. As the number of gig workers increases, so does their general demand for loans and financing.

In the gig economy, workers can find clients who offer them freelance work and one-time tasks. Gig workers can choose the amount of work flexibly and sell their services to multiple clients. Some of these independent workers use gigs as their primary source of income, while others see it as a way to supplement their existing salary.

Here are some examples of gig work.
Food delivery – Apps like Instacart, DoorDash, Grubhub, and Uber Eats allow restaurants and fast food businesses to hire independent workers for deliveries. The hourly pay usually ranges between $12 and $22.
Ridesharing – Car owners can use apps like Uber, Lyft, and Gett to offer services to people who need transportation. On Uber, riders earn between $8.55/hour and $11.77/hour on average, according to ridester.com.
Cleaning – You can find cleaning gigs on several platforms, including Housekeeper.com, which specifically targets workers in this field. According to ZipRecruiter, cleaners in the US earn $13.87 per hour on average.
Freelancing – On several freelancer platforms, like Fiverr and Upwork, professionals in fields as diverse as coding, web design, translation, photography, and digital marketing, can find clients who offer both short-term and long-term work opportunities. The pay varies significantly based on each worker's field, experience, and qualifications.
Micro-tasking – Other platforms, like Amazon Mechanical Turk, Prolific, and UHRS, allow requesters to find flexible workers who are willing to complete short tasks known as HITs (from surveys to transcriptions to recordings to data entry). Each task is offered in a bundle, and each worker can choose how many HITs from each bundle to work on.
Short-time rentals – Those who are willing to rent their house (or parts of it) to tourists and other short-term stayers can do so on platforms like Airbnb, VRBO, and Couchsurfing. For many people, this has become the main source of income.
Like many people who work in the gig economy, you may ask yourself where your chances of obtaining a loan stand compared to traditional employees with a stable monthly salary. This article will provide you with the most up-to-date information on taking out a loan for gig workers.
The Gig Economy: a Quick Overview
Here are some interesting statistics on the increasingly relevant role of the gig economy.
According to a study commissioned by UpWork and Freelancers Union, 35% of the US workforce admitted to freelance in 2019, while 28% are full-time freelancers
Gig workers' contribution to the US economy amounted to 5.7% of GDP in 2020 (Source: Zippia)
The gross volume of the world's gig economy amounted to $401.4 trillion dollars in 2022 (Source: World Economic Forum)
In 2023, the value of the global gig economy is expected to be $455.2 trillion dollars
This data shows us that gig workers, and freelancers in general, have become an integral part of our economy. As a result, many lenders are now looking at this group as a pool of potential clients.
Is Taking Out a Loan Harder for Gig Workers?
The general tendency among banks and other financial institutions is to associate gig workers with high financial risk. This is due to numerous factors.
Gig workers have a less predictable income than traditional employees.
They don't get paid for their time off.
No employer is offering them a benefits package, and they have to find insurance by themselves.
Many gig workers constantly need to look for new clients.
Their clients may pay late and, in some cases, not pay at all.
As sole proprietors, they are liable for all debts and losses incurred by their business.
As a result, gig workers may face additional difficulties when applying for a loan. Other factors can also exacerbate this situation. For example:
being a beginner gig worker
having low income
having a poor FICO score
having a high debt-to-income ratio
Nevertheless, it's still possible for gig workers to obtain a loan by looking for the right products, selecting the right lenders, and making the right moves.
Credit Cards for Gig Workers and Freelancers
As a gig worker or freelancer, you are legally running a small business. This applies even if you don't have any employees, don't have a separate business address, and don't plan to expand your business in the future.
Having this status alone increases the chances of obtaining credit cards aimed at small business owners.
Focus your search on business credit cards with low fees and attractive rewards programs for a wide range of business costs. Applying for cards with high fees and high spending requirements is not advisable when your income as a gig worker is not significant.
Personal lines of credit are also a valid option to consider. They tend to have lower interest rates and simpler repayment terms than credit cards, especially when offered by online lenders.
Mortgages for Gig Workers and Freelancers
Without a predictable income and employer benefits, taking out a mortgage as a gig worker may require a bit of extra effort. Unlike traditional employees, gig workers can't provide a W-2 or a paycheck as proof of income. Therefore, they must resort to alternative ways to prove to lenders that their income is both high and stable enough.
Here are ways to improve your chances of obtaining a mortgage.
Apply for a mortgage when you have worked for at least two years as a gig worker. Alternatively, apply after working for at least one year as a gig worker and for the previous year as a regular employee.
Provide 1099 forms and tax returns.
Provide bank statements showing a regular (or even better, increasing) inbound cash flow.
Maintain a high FICO credit score and a low debt-to-income ratio. If you perform very well under these criteria, lenders are more inclined to overlook that you don't have a traditional employment contract.
Make a large downpayment.
Try to accumulate enough savings before applying and provide proof of your savings during the application.
There is never a 100% guarantee that your mortgage application will be successful. However, these steps significantly increase your chances of obtaining a mortgage as a gig worker or freelancer.
Personal Loans for Gig Workers and Freelancers
When applying for a personal loan, having a stable income is one of the main deciding factors. Yet this doesn't preclude gig workers and other self-employed individuals from taking out this type of loan.
While traditional banks may be more reluctant to accept your application, online lenders are usually more flexible. Moreover, they tend to provide personal loans at lower interest rates and fees. Level Lending, for example, offers personal loans between $5,000 and $55,000 at very attractive conditions.
A personal loan can be very helpful for gig workers and freelancers who need to cover initial start-up costs. Here are some examples.
You're planning to buy a used car to work in ridesharing.
You're planning to buy a scooter or bike to work in food delivery.
You want to sell your photography or writing services online, and you need a developer to build your professional website, plus an experienced copywriter to engage your target clients.
You want to renovate your apartment and make it more attractive to AirBnB users.
In each of these scenarios, and in many others, a personal loan can help you cover expenses without having to wait for months until you save enough money.
Make sure you can prove you're income is stable enough (e.g., tax returns or bank statements) and try to maintain a good FICO score. This will greatly increase your chances of obtaining a loan with an online lender.
If you have more doubts or questions, call Level Lending at 888-922-4015. Our staff will advise you in detail on everything you need to apply for a personal loan as a gig worker.
Other Loan Options for Gig Workers and Freelancers
Secured Loans
If you are encountering difficulties taking out a credit card, mortgage, or personal loan as a gig worker, you can resort to secured loans. They allow you to borrow money using monetary or physical assets as collateral. These loans and lines of credit tend to have less strict credit checks than unsecured loans. There are various types of secured loans:
home equity loans
secured credit cards
HELOCs (Home equity lines of credit)
secured personal loans
Their main drawback is that you risk losing your asset if you can't pay back your debt.
Co-Signed Loans
Having a co-signer (e.g., a parent, sibling, or spouse) can provide additional guarantees to lenders, who may give lower importance to your irregular freelance income as a result. A co-signer will assume the responsibility of paying back the loan (or covering missed payments) in case you cannot do so.
Point-of-Sale Loans
If you need money to cover relatively small purchases, POS lenders can be the right solution for you. They allow you to borrow a certain sum of money during check-out and pay it back later (for example, in 4 biweekly installments). Most of these lenders, like Klarna or Afterpay, charge no interest at all for their POS loan services.
POS loans are ideal for gig workers who buy services and products online to use them as part of their job. You can use them to buy a photo camera from an electronics store if you do photography gigs or items to decorate your Airbnb apartment on an online furnishing store.
Read more: The Pros and Cons of POS Lenders.
Invoice Factoring
If you face issues with late-paying clients, you can look for factoring companies. They will buy your unpaid invoices (usually at a discount), allowing you to maintain a steady inbound cash flow.
Invoice Financing
Alternatively, you can obtain a loan by using your invoices as collateral. This type of loan allows you to borrow money against the sum that you are owed by your customers. Different lenders offer different rates and fees, so compare the various options before choosing an invoice financing provider.