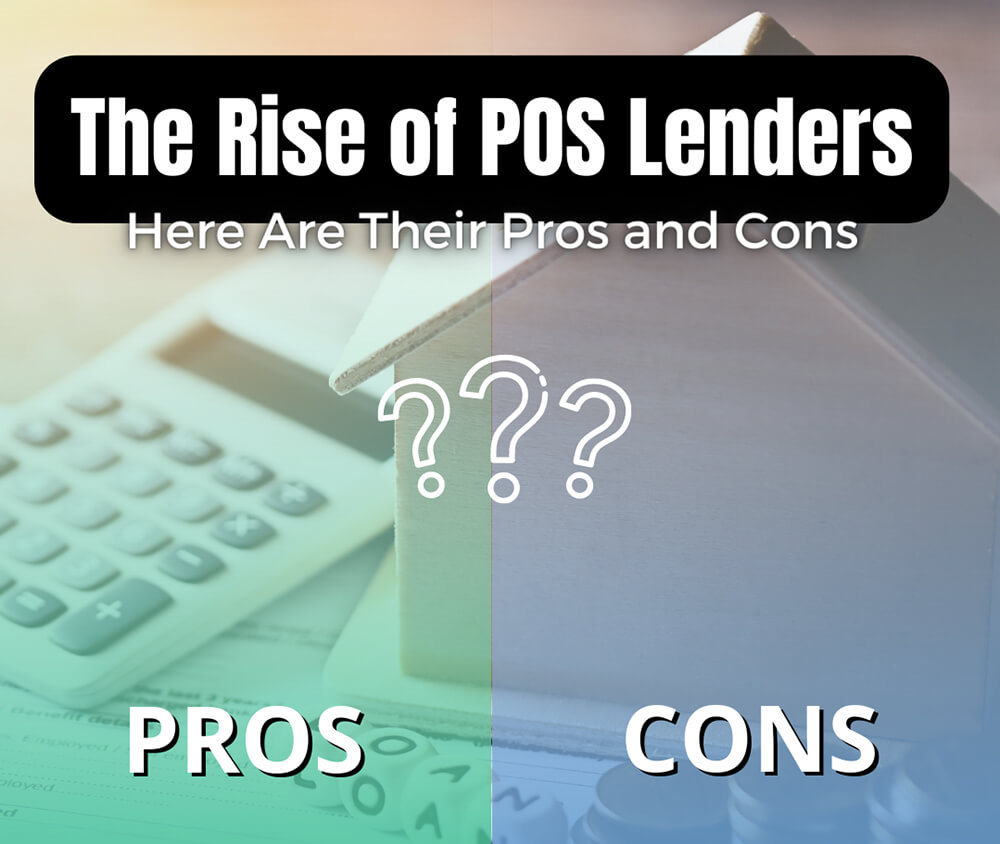 The Rise of POS Lenders – Here Are Their Pros and Cons

Point-of-Sale (or POS) lending is one of the rising trends among shoppers in the US and around the world. It refers to the practice of financing your purchases by borrowing money during check-out and repaying it with low or even no interest rates.

Merchants benefit from POS lending by attracting more customers and boosting their sales. Consumers find it convenient because it allows them to either split the payment in installments or pay the total amount several days later.

While POS lending has existed for some time, the increasing popularity of online stores has made it more widespread. This has brought about the rise of POS lenders like Klarna, Affirm, and Afterpay, which specialize entirely in this type of loan.

These companies partner with numerous consumer brands. Their online stores now offer the option of paying later or applying for a monthly plan during the checkout step.

A recent trend is the use of POS lending by struggling consumers to cover basic expenses. Increasingly, people are using this form of loan to pay for groceries and gas and not just for a new smartphone or sweater.

We will explore the major POS lenders and the most recent trends, as well as the pros and cons of the services they offer.
POS Lending: The Major Players
Klarna is a Sweden-based financial company founded in 2005 and operating around the world. It has partnered with over 250 thousand retailers, including AliExpress, Ikea, H&M, and Expedia. It offers an attractive buy now pay later service. You complete a purchase and then choose between different postponed payment methods. These include paying one month later, splitting the cost into four interest-free payments, or opting for a monthly plan. The Klarna app is very handy and can be used for online and in-store purchases.
Affirm is an American POS lender that has operated in this industry since 2012. After purchasing a product, you can either pay it in 4 installments every two weeks (without interest or impact on your credit score) or choose a monthly plan. After downloading the app and prequalifying your spending power, you can create a virtual card and use it in any store you want.
Afterpay is an Australian company founded in 2014 and operating in several countries (including the US). It has more than 8 million users active around the globe. Like other POS lenders, it pays the merchant upfront when you conclude a purchase. You can then pay Afterpay later in four interest-free installments over six weeks. You can manage your payments through an easy-to-use app and even earn rewards when shopping regularly.
Sezzle is another American buy now pay later service that acts as an intermediary between you and the seller, thus postponing your payment. It's also partnered with brands like Nike, Apple, Coach, and Disney. It doesn't charge any interest, and payments are split over six weeks. Its mobile app currently has a rating of 4.86 (out of 5) on the Apple store.
Splitit is quite different from other POS lenders as it is used in combination with your existing credit card. When you use Splitit at check out, you can select your credit card and split your payment into smaller installments. So if you purchase a product for $600 at the beginning of the month, you will be charged only for the first payment (e.g., $200), and the rest will be paid later (e.g., in a second and third payment, each for $200 each).
PayPal Pay in 4 – The popular online payment service provider PayPal also offers a buy now pay later credit product. PayPal pays the total purchase amount to the seller, after which you can pay PayPal in 4 interest-free installments or with a monthly plan.
Other pay now pays later companies to remember are Perpay, Bread, ZestMoney, Green Sky, Quadpay, and Zilch.
Let's now analyze in greater detail what are the pros and cons of buy now pay later solutions.
The Pros of POS Lending
Few or No Credit Checks
Unlike credit cards and various forms of loans, obtaining POS financing usually doesn't require an investigation into your credit history. Therefore, it's a great option if you can't qualify for most loans due to a low credit score.
No Interest Rate
If you choose to pay in a few regular installments and if you meet all the deadlines, POS lending doesn't charge an interest rate, making the loan virtually free.
You Don't Have a Credit Card
Credit cards are the most common credit instruments for financing shopping purchases. Yet not everybody uses them. POS lending is an excellent alternative for those who want access to credit without having a credit card.
It's a Hassle-Free Solution
POS lending is a very easy and smooth form of consumer credit. Creating an account and downloading the app is very easy. Only a few steps are needed before completing your first purchase.
Different Payment Options
Depending on your personal situation and preferences, POS lenders offer different payment options. Some consumers are happy with postponing the payment; some prefer splitting it into installments, while others want to pay for a product over several months.
The Cons of POS Lending
Impulsive and Irresponsible Purchases
POS lenders can lead consumers to spend more than they can actually afford, under the false impression that their available budget has increased. Those using POS lending services should be constantly aware of the fact that they are simply postponing the payment. Responsible use of pay now to pay later platforms is therefore paramount.
This form of lending may also encourage you to spend more than what you would otherwise spend, regardless of whether you can afford it or not. Therefore, it's essential that you don't base your purchase decision on the availability of credit but on whether you actually need that product.
It Doesn't Improve Your Credit Score…
Unlike repaying your credit card or personal debt, meeting POS lending payment deadlines doesn't have any impact on your credit score.
…but It May Worsen It
Yet both missed payments and defaults are reported to credit bureaus. This means that your credit score may be negatively impacted as a result of using POS lending platforms. So, tread carefully if you are planning to apply for a mortgage or a personal loan in the future.
Late Payment Fees
If you don't pay what you borrowed on time, you will incur progressive late fees, which would eliminate the interest-free advantage of POS lending. For example, Klarna charges a fee of up to $3 per installment for missing the payment deadline.
Monthly Plans Are Not Interest-Free
Unlike installment payments and 30-day payments, monthly plans do charge an interest rate. The interest rate on Klarna 36-month plan can be as high as 20%
The Future of POS Financing
As mentioned early, one of the new trends in POS financing is the use of this form of lending to finance basic necessities.
Until recently, it was mostly seen as a way to facilitate purchases of products such as electronics or clothes. Yet people are increasingly resorting to POS lenders to pay for milk or bread.
Rising prices are one of the factors behind these new trends. Splitting the payment into four installments or paying after 30 days is seen by consumers as a way to deal with such inflationary pressures.
To ease this new trend, POS lenders have struck partnerships with providers of essential goods. For example, Klarna has partnered with retailers such as Walmart and gas companies such as Chevron.
However, analysts are warning that this could threaten the financial solidity of buy now pay later companies. The risk is that this trend will make POS lenders dependent on consumers who live paycheck to paycheck. Yet, as reported by Bloomberg, Klarna has dismissed these concerns and claimed that most of the company's consumers are creditworthy.
Another interesting trend regarding POS lending is its increasing usage by millennials and Generation X. As reported by CNBC, these groups are starting to see this form of consumer credit as an alternative to credit cards.
Most of them see POS lending as an easier way to buy clothing and other shopping goods without having to pay high-interest rates.
We'll see how this trend is going to impact the percentage of credit card users in the future.
POS Lending vs. Personal Loans
Resorting to buy now and pay later solutions can be a great way to facilitate relatively small purchases. Taking out a personal loan to pay for a $100 pair of shoes or even a $900 air conditioner is very unusual.
However, when it comes to financing more expensive purchases, personal loans should be seen as one of the leading alternatives. Even more so if your credit score is high enough to obtain a low interest rate on your loan.
Personal loans allow you to borrow from $5000 to more than $50,000 and can be repaid over a more extended time. Their structure also doesn't encourage reckless or impulsive spending.
Level Lending offers accessible personal loan applications at very convenient and flexible conditions. Get a free loan offer today and obtain the funds you need to cover your planned expenses.