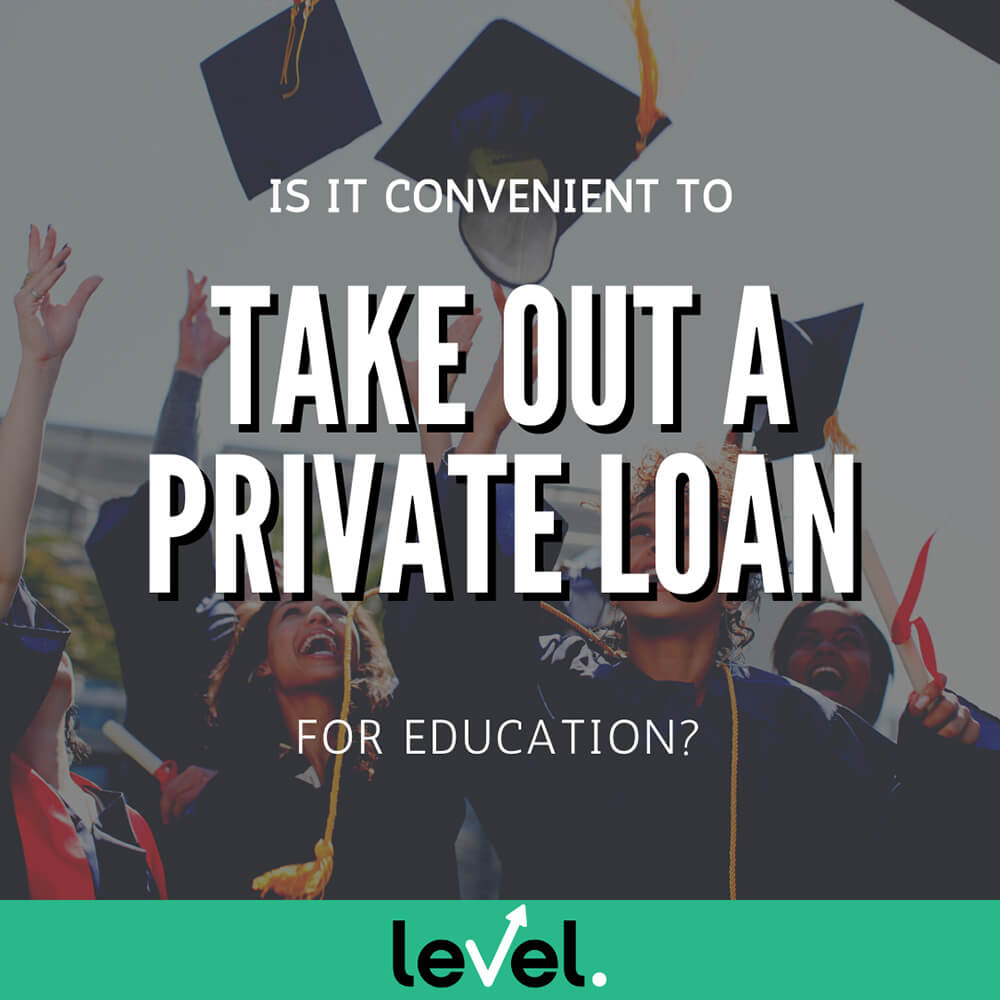 Is it Convenient to Take Out a Private Loan for Education?

When it comes to paying for your education, it's crucial to have a full picture of all the available solutions. Before even considering a loan, you should check whether you qualify for other financing options. Here are some examples.
Scholarships – This type of financial assistance is assigned based on achievements in your field of study and/or extracurricular activities. Scholarships are usually awarded by colleagues and universities and can finance your studies, either partially or fully. Unlike loans, you don't need to repay them.
Grants – They are usually awarded based on demonstrable financial needs. They can be assigned by the federal government, the state, universities, or colleges. Like scholarships, they are gifts, meaning you don't have to pay them back. The Federal Pell Grant is the most popular one in the US.
Negotiating with your school – The room for negotiation changes from institution to institution, but it doesn't harm to try and have a talk with your desired school's financial aid office on how to make your education more affordable.
When possible, you should also consider alternatives such as:
financial assistance from your family
saving money before going to school
saving money by living off-campus
working through school.
Only once you have crossed out all these possibilities should you seriously consider a loan.
This article will explore when it is convenient to take a private loan for education (and when it's better to focus on other types of loans). First, we will have a look at some recent statistics on student loans in general. Then, we will then see the differences between private loans and federal loans. Finally, we will focus on the different types of private student loans.
Student Loans: The Most Recent Stats
Based on data provided by statista.com, here are some general figures on student loans in the US for the academic year 2022/21.
The value of all student loans amounted to $95.9 billion (see chart below).
17.87 million students applied for federal student aid.
Non Federal loans amounted to 13% of all student loans.
The total amount of loans provided each year has been decreasing since 2011, which has slowed down the debt accumulation rate. Yet the total outstanding student loan debt touched the all-time high of $1.748 trillion in 2022, according to The Education Data Initiative. Federal loans alone account for 92.7% of this sum.
Therefore, while student loans remain an essential tool to finance one's education, only a minority of students resort to private loans.
Private Loans vs. Federal Loans
While federal loans are offered by the US government, private student loans are issued by private credit institutions. These may be banks or online lenders.
Let's dig into what you may want to consider before choosing from these two different types of student loans.
Reasons for Choosing a Federal Loan
One of the main reasons why federal loans are the most popular option is the lower borrowing cost. Based on data provided by Forbes, the fixed interest rate on federal student loans for the school year 2022/23 was 4.99%. This compares to a fixed rate ranging between 2.99% and 13.95% for private student loans.
Many students also choose federal loans for the lack of credit checks, as well as the lack of need for a co-signer. Indeed, this is a great advantage when your credit score is not high enough to obtain low-interest private loans. However, some federal loans (like PLUS Loans for graduate students) require credit checks.
Other federal loan benefits include:
six-month grace period for repayments after you graduate
different repayment plan options
270 days without payments before default
possibility to either postpone or lower your payment in case of financial difficulty
tax deductible interest
loan forgiveness options for people working in the public sector.
Moreover, if you are an undergraduate with exceptional financial needs, you may qualify for a subsidized federal loan. This means that the interest will be paid by the government while you are in school.
Please remember that you need to submit the FAFSA (Free Application for Federal Student Aid) as one of the requirements to be eligible for federal student loans (as well as federal scholarships and grants). This application is available each October 1 for the following academic year.
NOTE: Due to the Covid-19 Pandemic, a payment pause on federal student loans has been introduced until December 2022. This means that payments are suspended, and no interest is charged. More information is available on the official website of Federal Student Aid.
Reasons for Choosing a Private Loan
However, there are also reasons why you may want to consider a private student loan. For example, there are private loans that don't have an origination fee (unlike federal loans).
On top of that, private loans have less strict caps on the total amount you can borrow. In contrast, undergraduate students can only borrow up to $31,000 in federal loans ($57,000 if they are financially independent).
Also, private loan providers give you the option of choosing between fixed and variable interest rates. A private loan can be taken out at any time and doesn't require you to submit the FAFSA on October 1.
It's a particularly smart choice if you have an excellent credit score. This usually means being able to take out a loan at very low interest rates. Alternatively, you can use a cosigner (e.g., a parent or relative) to improve your borrowing conditions.
Keep in mind that private loans are the only option available when refinancing your debt. This means that if you plan to refinance your federal loan in the future, you will have to turn it into a private loan. When this happens, you will lose the benefits associated with federal loans. Yet this could be an attractive option if your finances improve considerably after college or graduate school. A successful career can significantly improve your economic situation, and your credit score can benefit as a result.
Private loans are also an option to consider if you have already taken out a federal loan (or received a grant) but still have additional educational expenses to cover.
Where to Take Out a Private Loan for Education
Private student loans are offered by different types of lenders. Here is a quick overview.
Traditional Banks
Many traditional financial institutions provide private loans for students alongside other types of loans. These include notable banks like CitiBank, Citizens Bank, PNC Bank, and Chase. Both the minimum credit score required to apply for a loan and the average APR tends to vary from bank to bank.
Specialized Providers
Some companies specialize in private student loans. They usually partner with (or are directly owned by) traditional banks from which the loans originate. These providers include Funding U, CollegeAVE, and Education Loan Finance. Their focus on student loans allows them to cater to the specific needs of students and provide more personalized customer support.
State & Non-Profit Lenders
A more affordable type of private loan is provided by state loan authorities and non-profit organizations. Some of these institutions are ISL Education Lending, EDvenstinU, and Rhode Island Student Loan Authority. Resorting to these providers is an excellent option if you don't qualify for federal loans but want affordable solutions to finance your studies.
Colleges and Universities
Some schools provide their own private loans to their students. These are also known as institutional loans. They are more akin to other forms of private loans than to federal ones and are sometimes funded by an endowment or a third-party organization. Their eligibility is often based on financial need, and some of them are restricted to specific uses (e.g., buying a laptop for study purposes).
Credit Unions
Credit unions operate in a way that is similar to commercial banks, but they are owned by nonprofit financial cooperatives. Some credit unions that offer private student loans are LendKey, Thrivent Federal Credit Union, and Affinity Plus Federal Credit Union. They usually offer more relaxed lending standards, but you (or your cosigner) need to be a member in order to access their loans.
Can a Personal Loans Finance My Education?
Student loans can be an effective tool to cover your undergraduate or graduate studies, Yet they may not be enough to finance your life as a student as well as non-academic courses.
In contrast, personal loans can cover any type of expense. The following are some scenarios in which you may consider taking out a personal loan for education.
Your student loan only covers tuition and books but not housing.
You want to buy additional books to expand your knowledge on specific topics.
You want to hire a private teacher (e.g., music or language).
You want to attend online courses on eLearning platforms like Coursera or Udemy.
You want to enroll in a study abroad summer program with organizations like EF or InLingua.
You need to cover additional expenses as an international student in the US.
You need to finance continuing education expenses after graduating.
Personal loan providers like Level Lending can help you finance these educational needs at competitive borrowing costs and conditions. Depending on your needs, you can borrow as little as $5000 or as high as $55,000. Get a free loan offer online today and start financing yourself the quality education you deserve.