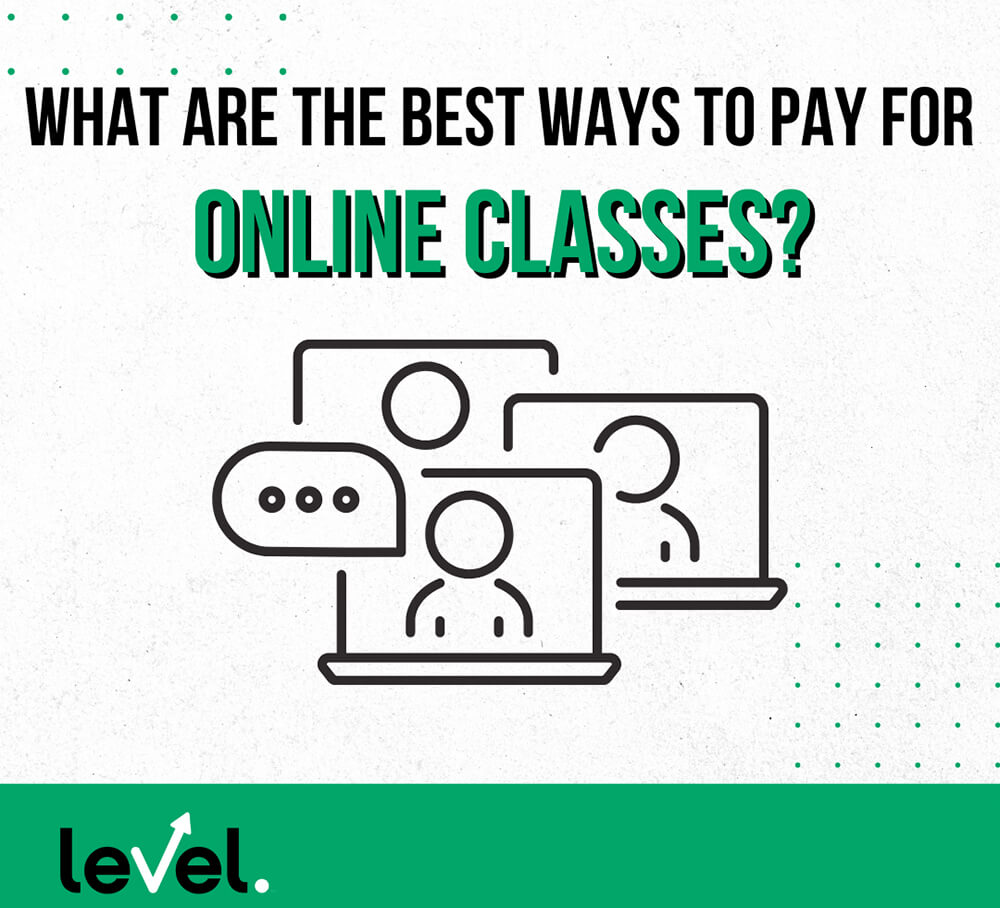 What Are the Best Ways to Pay for Online Classes?

In the internet age, education is no longer a service offered exclusively by schools and universities on campus. Every day millions of people resort to courses and tutorials offered online to improve their skills and knowledge in several fields.

Some of these courses lead to professional certificates and diplomas, while others just aim to perfect your expertise on a specific topic. Platforms like Coursera, Udemy, LinkedIn Learning and Skillshare specialize entirely in offering courses to online learners. Now, many colleges and universities have also jumped on the online education bandwagon and offer full degree programs through the internet.

According to statistics published by Bay Atlantic University:
63% of online university students chose to pursue an online degree because it is more aligned with their life-work routine
34% said it was their preferred learned method
30% enrolled in an online degree program to start a new career
3% did it because their preferred course was only available online
Those who plan to enroll in an online degree program (or in any course offered through the web) often ask themselves what the best method to finance their education is. That's why this article will review the various options to pay for online classes offered by both academic and non-academic institutions.
Financing Online Degree Courses
The good news is that most college and university online degree programs qualify for both federal loans and private loans. Let's compare these two solutions.
Federal Loans
As long as the institution offering an online degree is accredited by the US department of education (check it here), you can qualify for a federal loan.
The main reason federal loans are the preferred choice to cover tuition costs is their lower borrowing cost compared to alternative loans. Based on the information provided by Forbes, the 2022/23 fixed rate on federal student loans is 4.99%
Most of them also don't require credit checks or a co-signer. Other advantages include the fact that they offer different repayment plans, tax-deductible interest, and a 6-month grace period for repayments after graduation. Moreover, those in financial need can qualify for a subsidized loan, with the federal government covering the interest instead of the borrower.
To be eligible for a personal loan (as well as scholarships and grants), don't forget to send the FAFSA (Free Application for Federal Student Aid) on October 1 (for the following academic year).
Private Loans
Unlike federal loans, private student loans are offered by commercial lenders. Their interest rate tends to vary based on various factors, though it's usually higher than federal loans.
The exception is when you have an excellent credit score, which can translate into lower borrowing costs than those you pay on federal loans.
Moreover, private loans are the only options at your disposal when you want to refinance your loan (including your federal loan). This can be convenient if, after graduating, your higher income and financial stability allow you to get better borrowing conditions on a new loan.
Read More: Is It Convenient to Take Out a Private Loan for Education?
What About Non-Degree Courses?
Many online learners don't enroll in online courses to obtain a college or academic degree. Instead, they choose shorter classes aimed at obtaining a specific professional certification. Others are just trying to improve their knowledge in a certain field. Here is a scenario.
You don't have a university background in computer science but want to learn how to code. You find an accredited institution offering a 6-month online course in coding with a certificate upon completion. This certificate can be displayed to potential employers and increase your chances of getting a high-pay job.
Currently, you are not very satisfied with your job position in your company. You feel that learning more about project management could give you access to new career opportunities and a better salary. After searching online, you find a great project management course offered by a learning platform and decide to enroll.
For next summer, you plan to spend an entire month in Spain. Not knowing the language, you look for online intensive Spanish courses that you can complete from home and for which you can flexibly organize your schedule during the week.
After developing a passion for cooking, you decide that you want to learn more than just a few easy recipes. A friend of yours tells you he saw significant improvements in his cooking skills after enrolling in this live online class, so you decide to give it a try.
But what about paying for an online course? Not always is the money immediately available. Let's see what options you have.
Saving Money to Pay for Online Classes
The less costly (yet longer) way to pay for an online course is to save money before enrolling. Some online courses offer the option of paying in installments. In this case, you don't have to wait until you have saved the whole sum to start studying (just make sure you save at a rate that allows you to meet each deadline, or you may lose access to the course).
Choosing to save money rather than taking out a loan allows you to avoid borrowing costs and adverse effects on your credit score. Still, you will have to wait longer to enroll in a course, as well as sacrifice other aspects of your life.
Therefore, when choosing between saving and borrowing, it's helpful to ask yourself the following questions first.
How expensive is the online class I want to enroll in?
Can I postpone the begin of my course?
Does my current monthly income allow me to save enough money within a reasonable time?
Am I ready to reduce other expenses to attend this class?
If you opt for the saving option, it can be helpful to make a list of expendable costs (things in your life that you can give up for a while) and look for an online course with the best value for money.
Read More: Saving Money for a Goal.
Using Credit Cards to Pay for Online Classes
This is an option to consider if you already have a credit card and the cost of your online class is within the maximum amount you can borrow, and especially when:
the cost of your online course is not too high
the interest rate you pay on your credit card is reasonable
you have no problem making minimum payments on your credit card
you're not trying to reduce your credit card debt
you can split the course's payment and borrow monthly only what you need for each deadline
the course is paid through a monthly fee until you complete it at your own pace
In other scenarios, a personal loan is by far the best option to finance a non-academic online class. Also, applying for a credit card just to finance an online course (or various online courses) is not advisable. Credit cards are helpful when you plan to use them on a regular basis.
Taking Out a Personal Loan to Pay for Online Classes
Let's say you find yourself in one of the following situations.
The price charged by your educational provider is considerable (in the thousands of dollars).
You plan to take multiple online classes in a row, meaning you need to borrow a significant amount of money.
Your online school doesn't allow you to pay for the course in installments. You must pay the entire fee upfront.
You want to repay your loan over several years.
The interest rate charged by your credit card provider is too high.
Personal loans allow you to borrow the total amount you need and then repay it slowly over a long period. Moreover, many personal loan providers offer more convenient rates than those charged on your credit card debt. Rates are even lower in the case of online lenders due to their lower overhead costs and other factors.
The crucial elements in determining the success of your personal loan application are:
Having a stable income
Having a good debt-to-income-ration
Having a good FICO score (though some lenders accept personal loan applications by borrowers with bad credit).
Level Lending offers personal loans between $5,000 and $55,000 for your online classes at very favorable conditions. It's a great option when you are planning to take more expensive professional courses that can give your career a boost. Plus, completing these courses can also make it easier to repay the loan (and your overall debt) due to the positive effects on your salary.
Call 888-922-4015 to have a chat with our advisors. They will guide you through all the application steps and help you find the best options to achieve your educational goals.