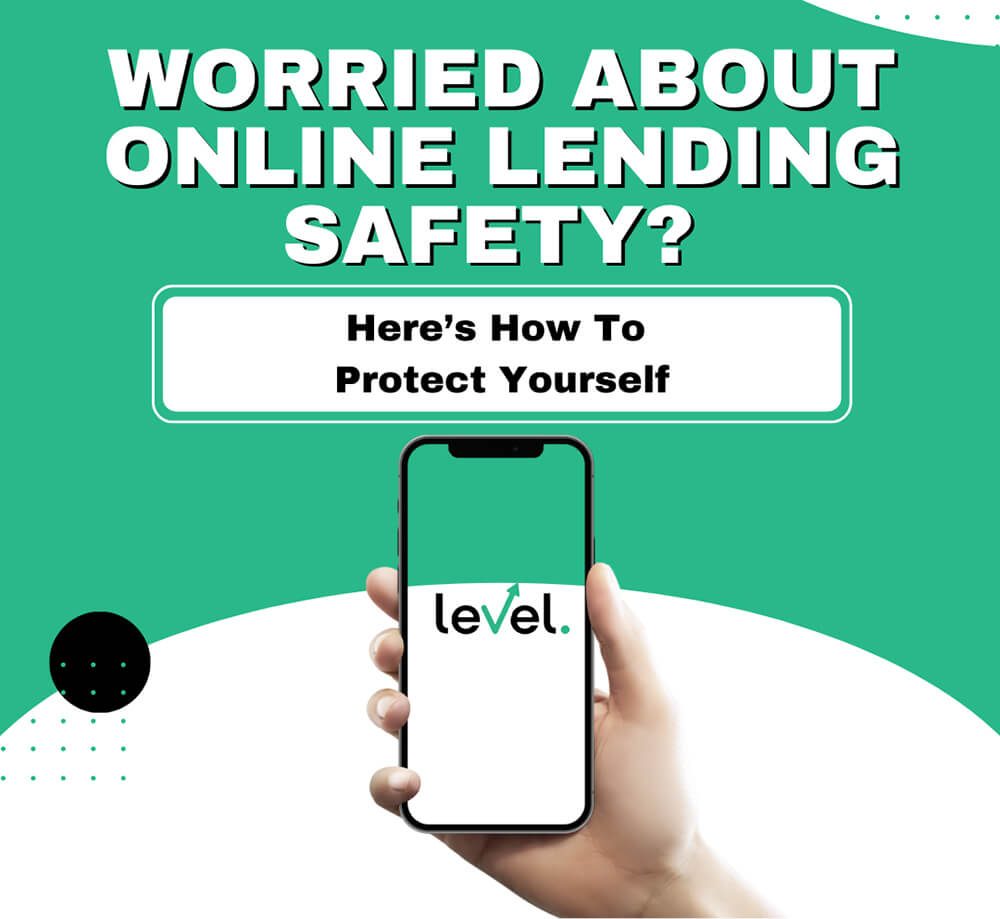 Worried About Online Lending Safety? Here's How To Protect Yourself

Not too long ago, applying for a loan was everything but a quick and smooth process. Steps like visiting a bank, talking with loan officers, and filling in loads of paperwork were unavoidable. After that, you had to wait several days (if not weeks) before knowing if the application had been accepted.

Then, came the time of telephone banking and the first internet credit providers. These innovations sped up things considerably.

Nowadays, you can complete the whole process on your smartphone in less than an hour. It doesn't mean you can't follow the old method if you want to. The percentage of those who use the internet to take out a loan is undoubtedly rising.

In addition to not visiting the bank and speeding up the process, online lending has numerous other benefits.
It has a lower application rejection rate than traditional banks.
Lower overhead costs for the lender often translate into lower interest rates or fees for the borrower.
It's more likely to find online lenders specializing in specific types of loans, meaning their services cater to the needs of particular customers.
However, many still have concerns about online lending safety. They ask themselves whether these credit providers are as reliable as traditional banks. The following article focuses on this topic and provides valuable tips to improve your safety when applying for a loan online.
Same Rules As Traditional Lending
The first thing to consider is that online lenders must abide by the same rules as traditional banks. A lender must follow both federal and state regulations to be considered legit. Any loan provider operating outside of such rules should be seen as unreliable not because it operates online but because it doesn't comply with current laws.
Make sure your loan provider doesn't violate the following restrictions.
A lender (or financial institution in general) must avoid unsafe and unsound practices under the Federal Deposit Insurance (FDI) Act.
Usury laws impose a cap on the interest rate that lenders can charge.
There are caps on the total amount of credit that can be extended to a single borrower (or group of related borrowers).
Current rules impose limitations on the amount of money a financial institution can lend to its affiliates.
There are limitations on loans that can be extended to insiders.
A lender can't discriminate against borrowers based on race, nationality, age, religion, or marital status.
Under the Truth in Lending Act, there are certain mandatory disclosures that lenders must provide to borrowers.
A lender is prohibited from using UDAAPs (unfair, deceptive, or abusive acts or practices).
Protection of Personal and Financial Data
When applying for an online loan, you need to share confidential information in order for the credit provider to decide whether to approve the loan or not. Such information includes:
proof of your identity (e.g., ID card, passport, or driving license)
proof of your address (e.g., utility bills or bank statements)
proof of your current income (e.g., paychecks or tax returns).
Your lender may also request additional financial information, such as:
your monthly rent
your monthly mortgage payment
your credit score
the value of your collateral.
Many borrowers worry that communicating this information online exposes them to data stealing or fraud. While the risk of this happening is incredibly low, there are various steps you can take to safeguard your data.
Use Antivirus and Anti-Malware to Improve Data Security
Internet viruses and malware are a threat when sharing any type of personal information online, including financial data. Based on research by the Ponemon Institute, half of Americans don't have any internet security software installed on their computer. This puts their private information at risk.
Before applying for a loan online, make sure that you have anti-virus and anti-malware apps installed on your computer. It's also crucial that you install software updates any time they are available. That's because hackers always look for new ways to steal data from internet users.
Some of the most popular internet security brands include Norton (best for Windows), Webroot (best for Mac), and Malware Bytes.
Only Use Secure Websites
Secure websites make sure that the data you're receiving from or sending to the website is encrypted. These websites have a so-called SSL (Security Socket Layer) certificate. This protocol improves security by creating an encrypted link between web servers and web browsers. Entering your information on websites without this certificate exposes you to a higher risk of data leakage.
It's very easy to check whether a website offers this protection. Look for the padlock (or similar symbol) right of the website's URL. You can click on it for more clarifications. For example, if you are using Chrome, a secure website would look like this: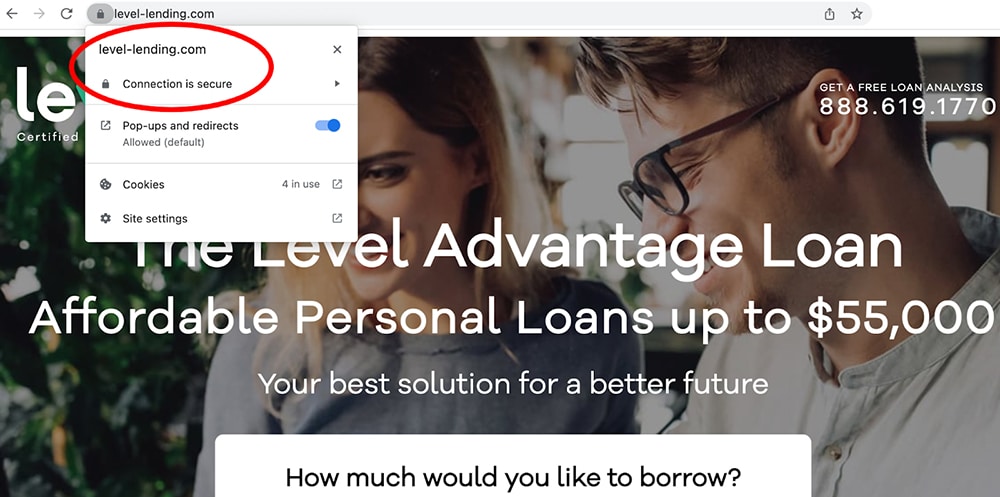 Use A Virtual Private Network (VPN)
If you want additional protection for your online privacy, you can also use a VPN service. By creating a virtual tunnel, a VPN hides your IP address and data while you're surfing the web. This protects you from any external attempt to spy on your online activity. A VPN will protect your identity even if you are using public or shared WI-FI. SurfShark and NordVPN are two of the most popular VPN service brands available.
Use A Very Strong Password
If applying for a loan involves creating an account on your lender's website or app, make sure you use a strong password. Here are some rules for creating hacker-proof passwords.
The longer the password, the better.
Use both letters and numbers.
Use both lower and upper case letters.
Use special symbols (like $, ! or #)
Make it both random and unique.
Watching Out for Scams
While the internet provides countless benefits that make our life easier, some try to take advantage of it and scam honest users. The online lending world is not different in this regard.
A loan scam is a loan offered under false pretenses. These scammers will try to impersonate legitimate lenders in order to gain a borrower's trust. After achieving this goal, they will either try to access confidential data or charge you fees for services they can't deliver.
People facing economic difficulties are usually the most exposed target. This situation has worsened due to Covid-19, which has made many people financially vulnerable. According to Debt.org, there have been 8 million fraud reports in 2021. This is a staggering 70% more than the previous year.
While most internet lenders are legit operators, there are some false flags to scan for potential scammers.
The Lender Doesn't Have a Valid License
If the lender doesn't appear to be registered in any US state, it's better to avoid its offers. Look for the footer (or the legal pages) of a company's website and check if licenses are mentioned. You can then validate this information on government websites. For example, all Level Lending's loans originate from MBOCAL, Inc, a fully licensed consumer credit provider. This can be cross-checked on the consumer credit listings on the Department of Financial Institutions extranet site: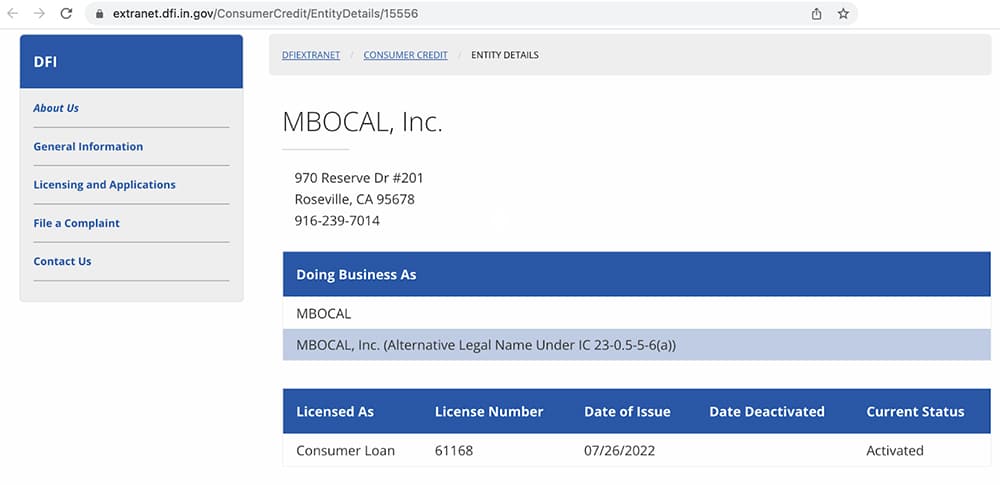 The Lender Has No Interest in Your Credit History or Proof Income
It's true that there are legit types of loans that do not require a credit report to be issued. Still, legit lenders usually require some form of proof you will be able to meet the payments. Payday loans, for example, require a copy of your paycheck. Alternatively, they may require some collateral. This can be anything from your house when taking out a mortgage to a personal item when taking out a pawn loan.
When lenders don't seem to have any interest in your ability to repay the loan, you should see it as a red flag.
The Lender Charges Very High Fees Before Providing the Loan
This is another red flag that often goes in combination with the lack of interest in your ability to repay the loan. Their goal may be to charge high origination fees to process the loan application, then disappear. This is a common online scam in various fields, not just online lending. Every time they try to charge a high commission without any evidence they will actually deliver the service, you should proceed with extreme caution.
The Lender Has No Physical Address
An online scammer is usually operating without a permanent legal residence. That's why you should always check whether an online lender has an official address before contracting any loan. For example, Level provides all its financial and coaching services from its main offices at 970 Reserve Dr, Ste 201, Roseville, California. This can be validated on Google, Yelp, Yellow Pages, and any similar address information provider.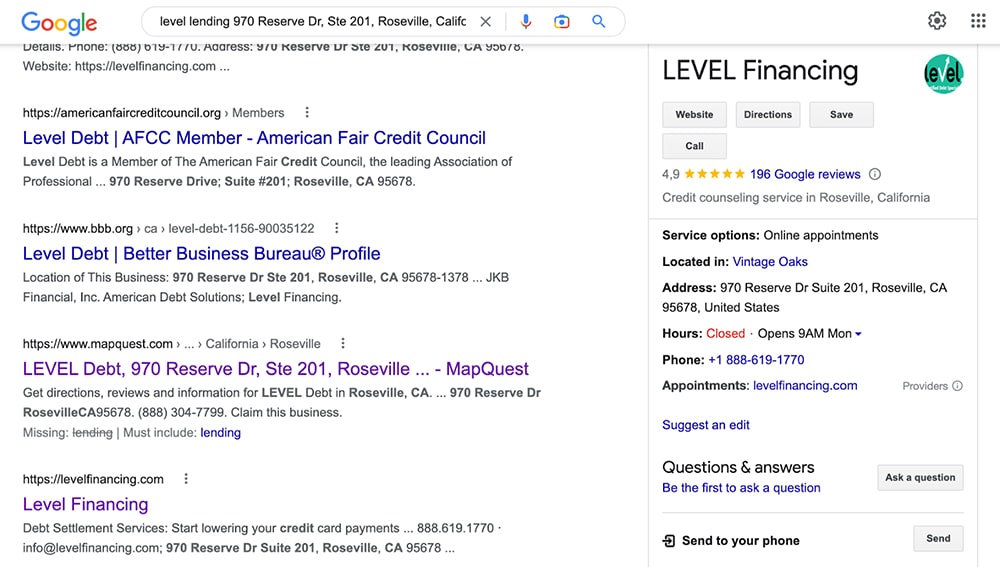 The Lender Pushes For Immediate Action on Your Part
This is one of the biggest red flags to look for in online lending scammers. Whether it's paying a high fee or providing sensitive information, or gaining access to your online banking, a scammer will try very hard to generate immediate action from you. Its alleged representatives may be very insistent, bombarding you with emails, text messages, or phone calls to obtain what they want. Once you fall for their trap, they will suddenly become unreachable.
To Sum It Up
To recap, online lending per se is not riskier than traditional lending. Yet like most things in life and business, there are some threats to look out for:
lenders that don't operate within the law
hackers trying to obtain your sensitive information
scammers trying to get money without providing any service,
By following the tips provided by this article and choosing reliable loan providers like Level Lending, your will be able to avoid these risks and focus exclusively on how an online loan can improve your life.