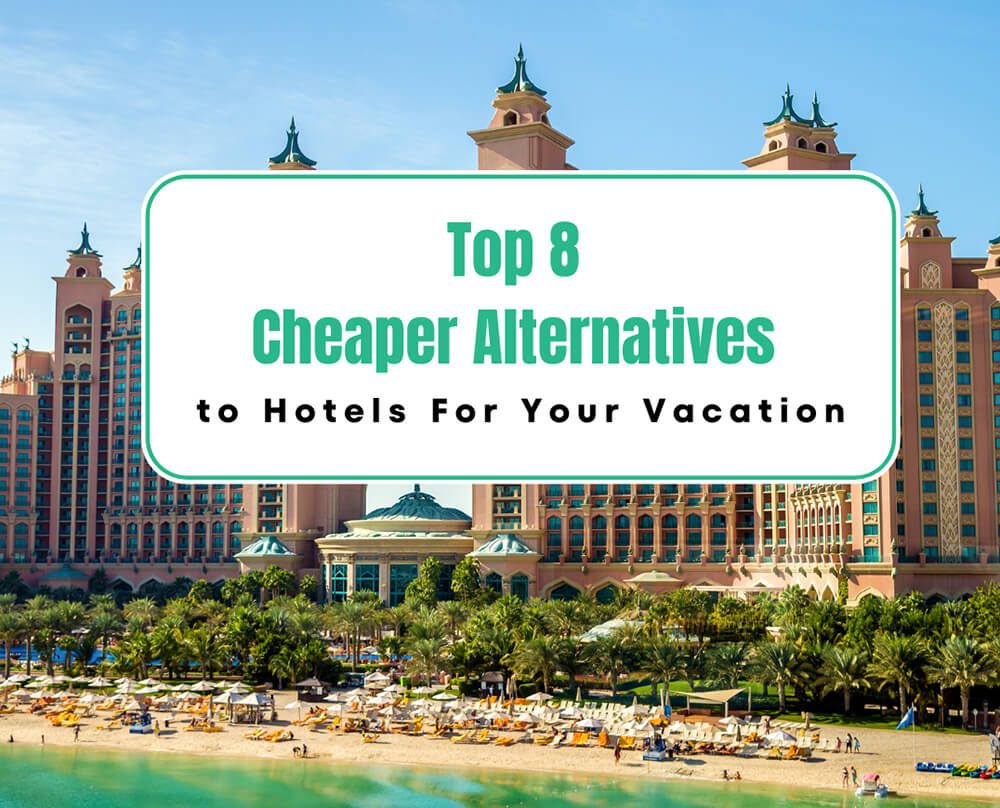 Top 8 Cheaper Alternatives to Hotels For Your Vacation

Do high hotel prices make you frown? You're not alone.

In 2020, U.S. hotels' cost was around $212 per night! So, we're all looking for cheaper places to stay. This article tells you about eight of them. Not only are they affordable, but they also add an exciting twist to your trip!

Let's start!
#1 Vacation Rentals
Ever tried holiday homes? Airbnb and Vrbo are shaking things up. They link travelers and homeowners. Some rent entire properties, and others just a room. Everyone wins! Homeowners make money, and travelers get a budget home away from home.
Home-like: These places often have all the comforts of a house, like a kitchen, a lounge, or even a washer sometimes.
Pocket-friendly: A study by IPX1031 tells us that Airbnb is cheaper than hotels in most U.S. cities.
Key Takeaway: Vacation rentals are a great way to save money on your trip. They provide home-like comfort and can be cheaper than some hotels.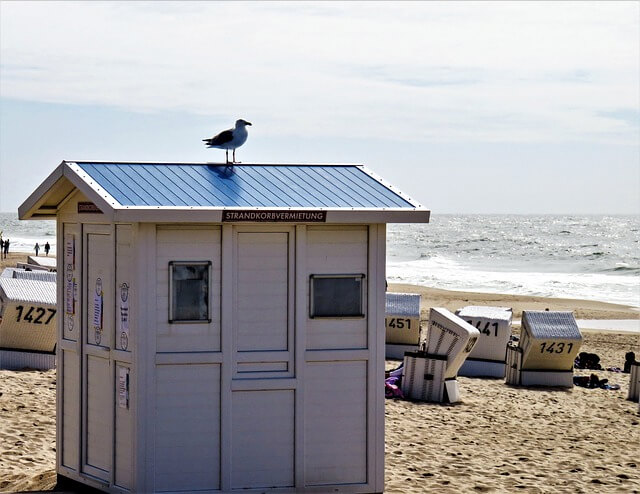 #2 Hostels
Hostels remind us of student travel, but they're for anyone minding their budget. They have dormitory-like rooms with shared restrooms, and they're way cheaper than hotels. The best part? You get to meet fellow travelers from different parts of the world.
Making Friends: The common areas in hostels, like kitchens and lounges, are perfect for meeting new people.
Easy on the Pocket: Volunteer Forever says hostels can cost anywhere between $15 to $40 per night in most cities.
Key Takeaway: Hostels have shared rooms and bathrooms, but they're a great way to save money on your vacation. You may even meet some amazing people in the process.
#3 Bed and Breakfasts
Bed and breakfasts, or B&Bs, have tons of charm. They're like vacation rentals but with perks like hotels. Super cozy rooms make you feel right at home. And yum, a delicious homemade breakfast is waiting for you in the morning! Even more awesome: B&Bs often cost less than hotels.
Fun Fact: Every B&B has its unique style. Yup, just like the owners!
Savings: Did you know? The average B&B in the U.S. costs $150 per night. That's usually cheaper than hotels nearby.
Key Takeaway: Bed and breakfasts are a great way to experience the local charm. You get breakfast every morning, and they're usually cheaper than hotels too!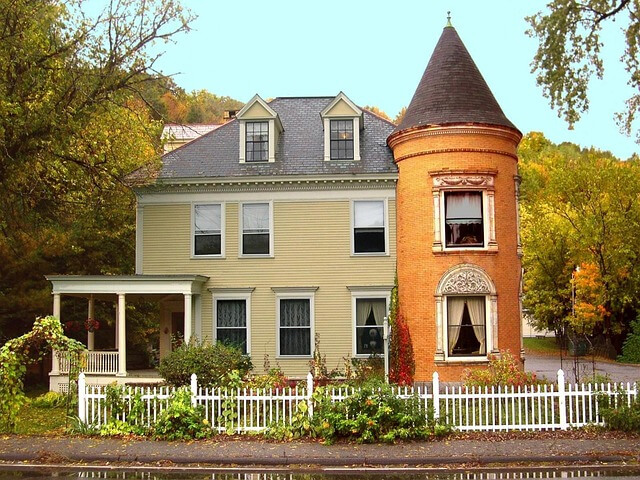 #4 Camping and Caravanning
Nature lovers, this one's for you! Camping and caravanning let you explore the world in a cool, budget-friendly way. Picture this: sleeping under a sky full of stars. Waking up to bird songs! It's not just about saving money, though.
Camping and caravanning bring you close to nature, which other places can't really do. Each option brings its unique charm, and you'll have lots of stories to share afterward. It's time to go exploring, make new memories, and enjoy the world around us.
Affordable: Hotels can be pricey, but campsites are way cheaper.
Nature is Calling: Camping and caravanning put you right in the heart of the beautiful outdoors.
Key Takeaway: Camping and caravanning are the best way to explore nature while keeping your budget in check. Plus, you get to enjoy peaceful moments surrounded by breathtaking beauty!
#5 Homestays and Cultural Exchanges
Do you know what's super fun? Exploring new cultures while traveling.
The best way to do that: homestays and cultural exchanges! Thanks to sites like Couchsurfing and Workaway, we can make friends with locals and make unforgettable memories.
Similarweb says Couchsurfing had over 2 million users by June 2023. That shows how many people love these meaningful travel experiences!
Be a Local: Doing a homestay lets you live like a local. Say goodbye to boring hotel rooms! You'll join in local customs, enjoy homemade food, and learn about daily life. You may even make lifelong friends with your hosts.
Save Money: Many homestays are free or cost very little. You save on travel expenses and help the environment too! Since you're staying in someone's home, you're not using a hotel room. Hosts often know the cheapest places to eat and cool free stuff to do, which makes your trip more budget-friendly.
Homestays are amazing for adventurous travelers like you and me. It's time to dive into local life and culture, all while making the most of our money. When we return from our trips, we'll have so many cool stories to share with friends and family!
Key Takeaway: Homestays and cultural exchanges are a great way to explore local life and culture. Plus, they're usually free or cost very little money. We can save on travel expenses while making amazing memories!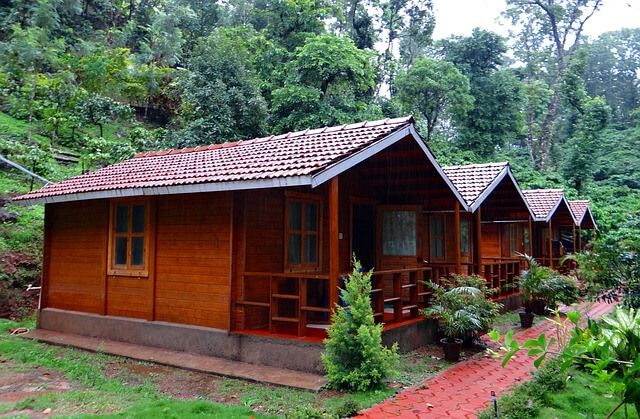 #6 House Sitting or Pet Sitting
Do you love pets? Or maybe you're a plant whisperer?
If yes, house-sitting or pet-sitting is perfect for you! When you travel, these gigs help you save on where you stay. So, if you look after someone's pet or water their plants, you get to stay in their house for free.
One traveler story said she could save over $11,000 on travel accommodations. That's big savings, especially if you travel a lot!
Stay for Free: One big perk of a house or pet sitting is free lodging. Homeowners need a reliable person to take care of their home, pets, or plants. In return, they let you stay in their places for free. This way, you get to save a lot and might even end up staying in beautiful homes or places that would otherwise be too expensive.
Live like a Local: When you do house sitting or pet sitting, you're not just a visitor but a local. You'll stay in a neighborhood just like the residents, shop at local markets, and might even become a part of the community for a bit.
How cool is that? You'll get a unique feel of the place and make memories that will last forever.
Key Takeaway: House sitting and pet sitting are great alternatives to traditional accommodation. Plus, you get to live like a local and make lots of memories that will last a lifetime!
#7 Monastery and Religious Accommodations
How cool would it be to stay in a monastery while traveling? It's a unique accommodation option, not many travelers think of. Far from the bustling tourist spots, monasteries provide peaceful and calming lodgings. What's more, they let you deeply experience local culture and spirituality.
In fact, there are over 350 monastery accommodations in Italy alone. You can find similar places in other countries with rich spiritual histories too.
Light on Your Pocket: Monasteries and religious places usually operate as non-profits. They ask for donations instead of regular accommodation charges. This makes them way cheaper than commercial hotels. The donation amount can vary, but it's typically way less than hotel room rates.
Cultural Dive: Staying in a monastery gives you a unique cultural experience. You'll live in a sacred place, join daily rituals, and interact with the local religious community. It gives you the opportunity to learn about different spiritual practices and beliefs up close. This could be a humble and enriching experience for you.
Important Tip: These places have their own rules and customs. For example, they'll have silence hours, dress codes, and communal meals. So, be ready to respect and follow these customs if you decide to stay in a monastery.
Key Takeaway: Monastery and religious accommodations are a great way to explore spirituality and local culture while traveling on a budget. Plus, these places usually operate as non-profits, so you can often stay for free or at a very low cost!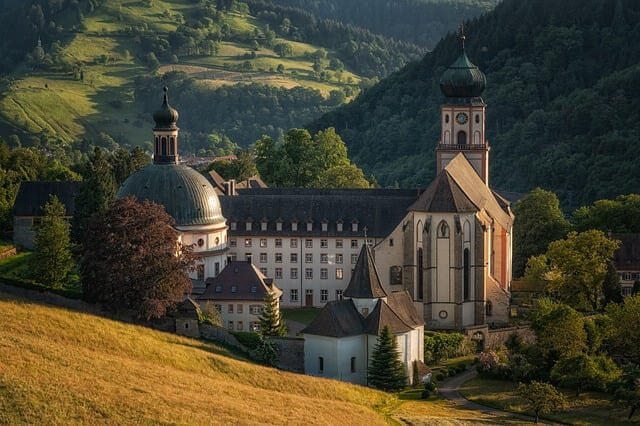 #8 University Dorms
Ever thought of staying in a university dorm while traveling? It's a cool idea, right? Universities often rent out dorm rooms to travelers when school is out or during summer breaks. These dorms are a budget-friendly option, especially in cities where lodging prices can break the bank.
Savings Galore: University dorms are usually less expensive than hotels and even some hostels.
Handy Location: Dorms are usually in the heart of the city, close to public transportation, and very secure.
Key Takeaway: University dorms can be a great option for budget travelers. They're often much cheaper than hotels and located right in the center of the city, close to public transportation. Plus, they're usually very secure too!
Wrapping It Up
These are eight fabulous ways to stay in places other than hotels when you're traveling. Not only do they cost less, but they also make your trips so much more fun and interesting.
That's a long list of options. But I'm sure there's one that's perfect for your upcoming trip. Here's to amazing journeys, exciting stories, and a wallet that's still heavy at the end! Safe travels, my dear adventure pals! Can't wait to hear all about your wonderful adventures!