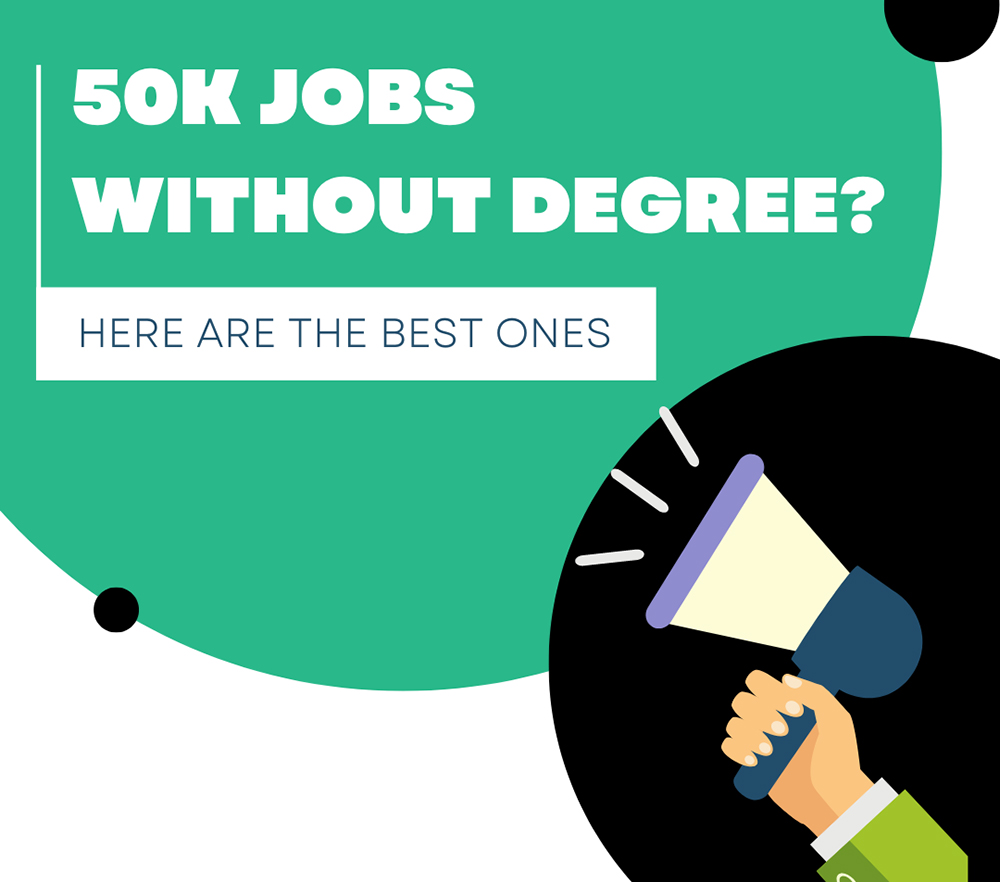 50k Jobs Without Degree? Here Are The Best Ones

Many believe a four-year degree is the golden ticket to a high-paying job.

This is far from the truth! Surprisingly, a lot of lucrative careers do not require a fancy piece of paper. Curious about the best 50k jobs without degree? Let's dive in!
The Changing Job Landscape
Jobs. They're not what they used to be. The world of jobs is witnessing a transformative phase. The employment scenario has taken a remarkable turn, and the age-old norms are being reshaped.
Unlike in the past, where our parents' or grandparents' generation enjoyed a "degree-led" market, today's job sphere tells a different and more nuanced story. This dramatic switch is gradually redefining what success looks like.
The Previous Norms
During the era of our parents or grandparents when they launched their careers, a college degree was often identified as the passport towards achieving success and prosperity. The formula was simple:
Earn a college degree.
Apply for jobs.
Settle into a lifelong career.
The New Norms
However, the modern job market is challenging this convention. The previously set norms have now started to sway, and the "degree guarantee" doesn't hold the same merit as it once did. In 2018, the US Bureau of Labor Statistics released a report that shook the traditional notions of the job market.
Contemporary employers are setting new priorities for hiring. They no longer solely depend on degrees for recruitment but instead, focus on a combination of other crucial factors.
Skills: They are looking for well-honed expertise or abilities that are specific to the job role.
Work Experience: A track record of prior work, which represents the knowledge or skills gained over a period, is now a key consideration.
On-the-job training: Active learning, achieved while working and gaining practical experience, is increasingly valued.
Innovation and Adaptability
We live in a time when innovation is the norm, not the exception. With rapid technological advances and global shifts, adaptability is now a highly sought-after attribute in potential employees. The ability to:
Use new technologies.
Adjust to changing work environments.
Learn new skills quickly.
All these factors have become more important than just possessing a conventional college degree.
Key Takeaway: A college degree is no longer a prerequisite for success. With the changing job scenario, employers prefer candidates with strong skills and work experience rather than just degrees. Adaptability to new technologies and environments, combined with on-the-job training, is now valued more than ever before.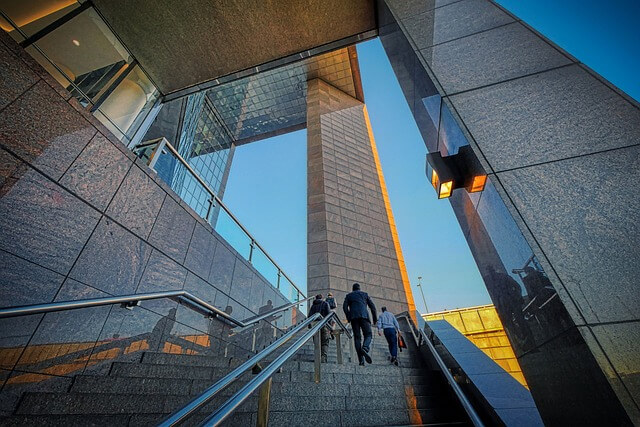 Now let's have a look at five great job options for those without a degree.
#1 Skilled Trades
Do your hands work magic in fixing a leaky faucet? It seems that there's an entire universe of profitable professions embedded in these hands-on skills. Let's delve into some of the in-demand skilled trades:
Electricians
Plumbers
HVAC technicians
These professions prove that your career path doesn't have to follow the traditional route of obtaining a four-year degree. Instead, it could be shaped by your natural talents and interests. These skilled trades jobs are more than just required—they are in massive demand today!
In prime locations or remote ones, residential or commercial areas, the essentiality of these skilled jobs remains undisputed. Every household or business potentially needs them, making them evergreen professions that have endured societal and technological shifts.
The income potential of these professions is indeed surprising and exceeds some of the professions requiring a traditional degree. According to the Bureau of Labor Statistics in 2021:
All this is earned without the need for a university degree.
Key Takeaway: Skilled trades jobs such as electricians, plumbers, and HVAC technicians are in high demand today. These professions can offer lucrative career paths without the need for a university degree.
#2 Sales Positions
Let's look at jobs where you're rewarded for your ability to persuade and charm:
Real Estate Agents
Pharmaceutical Sales Reps
Sales careers are situations where a magnetic personality can outdo a framed degree on a wall.
Despite not always requiring degrees, sales jobs offer competitive remuneration. The Bureau of Labor Statistics reported the median annual pay in 2019 as follows:
In the sales industry, the need for a degree typically takes a backseat to certain other prerequisites. For many sales jobs, specific licenses or certifications become the necessary qualifications. These could vary based on the industry and the legal requirements of the job and can range from Real Estate Licenses for real estate agents to certifications in product knowledge for pharmaceutical sales reps.
A crucial tip for aspiring salespeople: find a product or service that you genuinely love and believe in. Personal passion and knowledge about a product can translate into persuasion power that no degree can provide. You may be selling ice to an Eskimo or houses to a millionaire – if you love what you're selling, your enthusiasm will be your most valuable asset.
Key Takeaway: Sales positions such as real estate agents and pharmaceutical sales reps do not always require a college degree. These jobs offer great earning potential and usually require specific licenses or certifications instead of traditional degrees. Passion for the product you sell is essential in order to be successful in this field.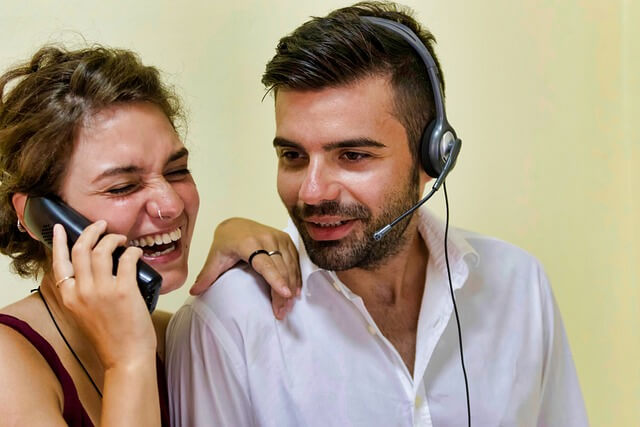 #3 Tech Industry Jobs
Tech rules! The tech domain is constantly advancing and presents a dynamic work environment. In this sector, skills frequently hold the trump card over textbook learning:
Web Developers
IT Specialists
The fast-paced growth and opportunities within the sector make it an attractive career path.
A report by CareerBuilder and Economic Modeling Specialists Intl. (EMSI) highlighted the extensive growth of Information Technology (IT) jobs. From 2014 to 2019, IT jobs experienced a remarkable 12% growth, demonstrating the availability and prospects in the field.
A university degree isn't the only pathway to enter and excel in the tech industry. Rather, there are alternative ways to gain necessary skills and knowledge, such as:
Tech or Coding Bootcamps: These are short-term, intensive programs designed to teach specific tech skills like programming, web development, or data analysis.
Self-Study: Numerous online courses, tutorials, and learning platforms allow motivated individuals to master tech-related skills at their pace and convenience.
The combination of these non-traditional learning methods and relevant work experience can be enough to secure high-paying positions in tech without going through the conventional university journey.
Key Takeaway: The tech industry is booming and presents numerous job opportunities. It is possible to gain the necessary skills and knowledge through boot camps, self-study, or relevant work experience without a university degree. This provides an alternate pathway to enter the field and excel in it.
#4 Public Service Roles
Community service with a decent paycheck, how about that?
Police Officers
Firefighters
While these roles often demand physical prowess and courage, they also provide solid compensation and job security in return.
Public service roles might not necessarily require obtaining a traditional degree, but they do offer a handsome compensation package. According to the Bureau of Labor Statistics, in 2021:
The most appealing factor about public service roles is the chance to serve and protect your community. These jobs may involve risks, irregular shifts, and maybe lots of coffee, but the social impact and the sense of duty and fulfillment can be very rewarding. One doesn't need a university degree to exhibit the bravery, commitment, and big-heartedness required for these roles.
Key Takeaway: Public service roles such as police officers and firefighters do not require a college degree but can offer competitive salaries and the chance to serve your community. These jobs involve risks and irregular shifts but bring a sense of duty and fulfillment.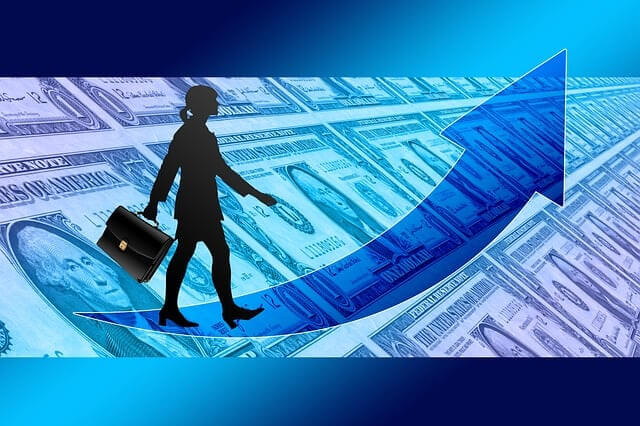 #5 Creative Professions
Have a way with words or a flair for design? Or perhaps, you paint stories through your lens?
Photographers
Writers
Graphic designers
In these fields, your portfolio speaks louder than a degree. And the paychecks? BLS reports a median pay of $69,510 for writers and authors and $50,710 for graphic designers. Time to reignite that creative spark and let the world see your magic!
If you're a writer struggling to meet deadlines consider hiring a freelancer from BuyEssayFriend.com. BuyEssayFriend connects you with experienced writers who can help you with a variety of tasks, from writing blog posts and articles to creating PowerPoint Presentation.
Key Takeaway: Creative professions such as photographers, writers, and graphic designers may not require a college degree but can offer lucrative salaries. Instead, portfolios are the most important criteria to judge competency in this field. Therefore, honing creative skills can be an effective way of breaking into these jobs without a university degree.
Final Thoughts
And there it is—my run-down of well-paying jobs that knock that degree requirement off its ivory pedestal. A surprising find, isn't it?
Now, your turn to step out there, explore these paths, and let your unique skills and passion guide your future. Remember, success isn't confined to the four walls of a classroom but rather to unleash your true potential!